When the final truth comes out, the legacy of the leadership of the Eaprchy of Newton will be set for life.

The truth will come out. It always does.

Most of the truth has already come out.

We are coming back more powerful and our faith stronger

St Elias Church will prevail as always.

We Are The Church.

United We Are. ONE Family We Are

On Sunday January 24, We all proved it

يا رب القوات........ ان الله معنا    (
listen
)
June 24, 2016
Community

San Jose and the Bay Area, CA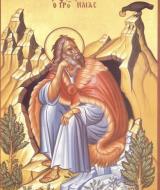 Mar Elias

Address: Our Heart